Introduction
Prarambh - The Best Launchpad for your Startup, is the flagship event of Saksham, Ecell IIM Udaipur. The main aim of this event was to foster entrepreneurship among students and the community. In this event, we brought entrepreneurs and entrepreneurial aspirants under the banner of Prarambh, nurture their ideas and Minimum Viable Products (MVPs) for almost six weeks through mentoring (on call/Skype), marketing, designing and IT support. Finally, the teams pitched in front of the esteemed judges/investor panel.
Pramrabh 2019 was the
sixth edition
of it and it was a huge success. There were two tracks:
Existing startups with Minimum Viable Products
New ideas yet to be taken to the market
Prarambh'19 had garnered enthusiastic participation from all parts of the country. We received more than 150+ startup ideas and after two rounds of screening, we selected 10 teams from each track. They went through a 6-week mentor-ship period by industry stalwarts to refine their ideas even more. Out of 20 teams, 18 teams presented their ideas to the panel of Judges/Investors on campus on 3rd February 2019.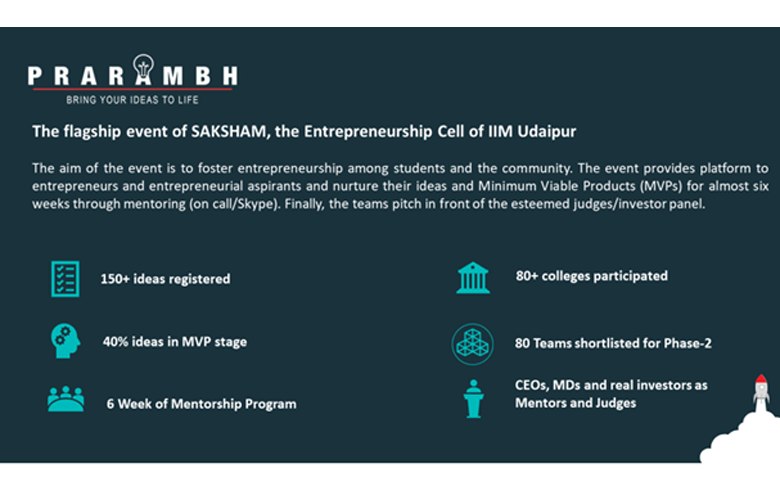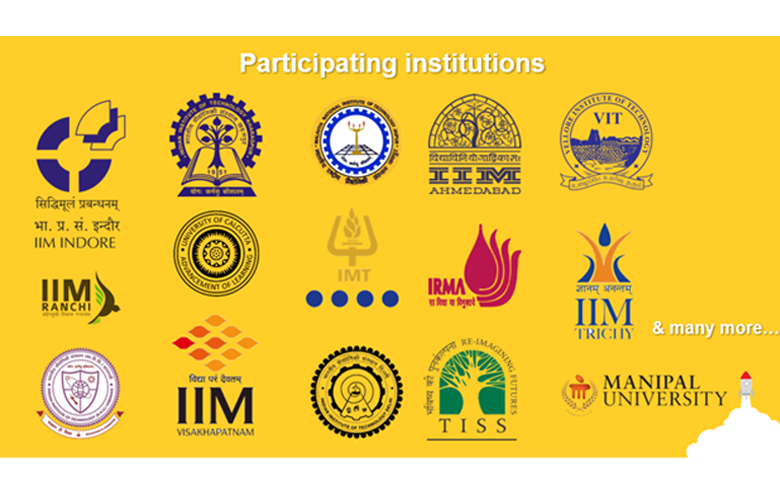 Mentors for PRARAMBH'19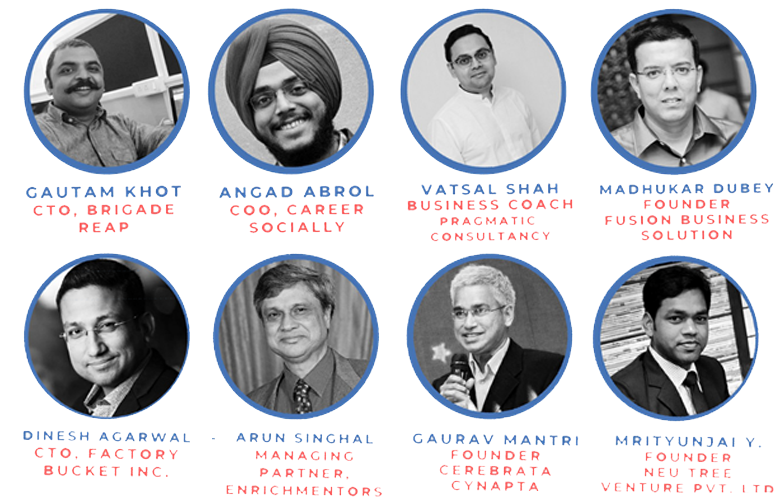 Final Pitching Round
The final round which took place on campus required the participating teams to be present here. On the day of the event, the teams pitched their ideas in front of the investors/judges. There were 10 teams in each track. All the teams were provided 15 minutes to pitch their ideas in front of the judges/investors. Then, the pitching round was followed by a rigorous Q&A session. In the end, teams were provided priceless feedback and suggestions by the judges/investors.
Track 1 Winner:
Startup Name: FloraFoam
Prize Money: Rs. 40,000
Track 1 Runner Up:
Startup Name: Eco-friendly Water Retention Natural Polymer
Prize Money: Rs. 25,000
Track 2 Winner:
Startup Name: Cortex
Prize Money: Rs. 20,000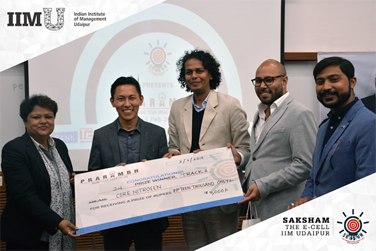 Track 2 Runner Up:
Startup Name: Core Nitrogen
Prize Money: Rs. 15,000
Special Thanks
Team Saksham would like to thank all the mentors for sparing time from their busy schedule and helping the startups to shape their ideas.
Team Saksham would also like to thank all the judges for coming to the campus and give useful feedback to teams which would be helpful for them in the future.
A special thank to Prof. Janat Shah (Director, IIMU), Mr. Uma Maheshwaram Mandi (CEO, Incubation Center IIMU), Mr. Rashid Khan (Research Manager, Centre for Development Policy and Management IIMU), Prof. N. Vishwanathan (Faculty at IIMU), Mr. Sheetesh Agarwal (Accounts Department, IIMU), Mr. Sivakumar Mathada (Chief Administrative Officer, IIMU), Mrs. Shanu Lodha (Administrative Officer, IIMU), Team of Sarovar Hotels Ltd., All the participants who came on the campus from different parts of India and All the students and administrative personnel's who were directly or indirectly associated with the PRARAMBH'19 organization and planning.
Sponsors for PRARAMBH'19