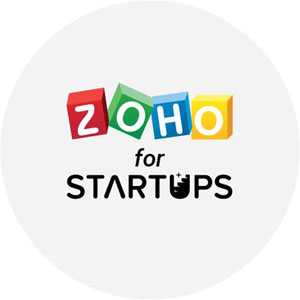 What is Zoho?
At Zoho, we create powerful software to solve business problems. Trusted by over 50 million users from across the world, software has always been our craft and our passion. More than 45 software applications, to manage, connect, and automate business processes across your organization. Please visit www.zoho.com to know more.
What is Zoho for Startups?
Through the Zoho for Startups program, we are passionate about helping startups onboard the right software tools at the right time. Whether you are just setting up your startup or are already scaling up across geographies, from writing down your ideas to crafting your pitches, you will always find a bunch of apps that can help you structure and automate your everyday work.
What is the offering?
Startups are eligible to avail Zoho Wallet credits worth INR 2 Lakhs, with a validity of one year. There are more than 45+ apps to choose from!
Steps to avail the offering
Visit zoho.com to explore the wide range of applications available in our suite.
Need help in picking the right applications for your business? Fill this form to talk to our concierge team.
Register here to sign up for the Wallet credits program.
We will get back to you once we validate your account.
Important Notes
The credits are available only for new/freemium users of Zoho.
Credits are valid for 360 days (1 year) only, and this time period cannot be extended.
Startups that sign up, can use the wallet credits for purchasing of new subscriptions of Zoho's apps, subsequent renewals, upgrades or purchase of add-ons in this one year.
Please note that we would get back to you within 2 business days.